Benefits of Membership
REPRESENTATION & NEGOTIATION
Every year, the Association supports members across the Civil and Public Service with cases involving their employers. These issues range from payment of wages and leave, to respect and dignity at work and disciplinary/probationary. As an AHCPS member, you can benefit from advice and assurance for disputes with your employer or with a third party directly arising from your employment.
At a collective level, the Association defends the professional interests of members and ensures that your rights at work are protected. Our team of officials engage and negotiate directly with Civil & Public Service employers to defend our members and influence the development and reform of services to the public.
INCOME CONTINUANCE SCHEME
This scheme provides you with a replacement income, up to 75% of your usual salary, if you cannot work due to illness or injury. The cost of the scheme is extremely competitive at just 0.57% of gross salary and is eligible for tax relief at the marginal rate.
PROFESSIONAL DEVELOPMENT
The Association provides a range of professional development opportunities exclusively for members including seminars of topical issues, career development training, and professional development for branch officers.
FINANCIAL SERVICES
Additional Voluntary Contribution: This is a method of increasing your pension in a tax efficient manner & also increasing your death in service benefit.
Group Life: This scheme provides a pay out of twice your annual salary tax free. This is in addition to the 1.5 times lump sum paid from the superannuation scheme – cost = 0.48% of salary. This can be continued in retirement via associate membership.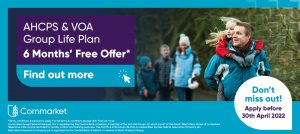 Other Insurances: Car & home insurance available at discount rates from a range of brokers – also a Health Insurance Advisory Service available to you.
Travel Insurance: World-wide cover for winter sports, water sports and European Motoring Breakdown Cover – policy is designed to cover immediate family of the Main Insured Person including children to age 22 in full time education.
 
Mortgage Protection: This scheme aims to assist you in finding the most competitive mortgage protection policy plus a rebate of 25% of the first year's premium within 3 months of the start date of the policy.
Investment/Mortgage Advice: Financial and investment advice is available through the Association's brokers.
Bereavement Grant: A grant of €5,000 is payable on the death of a member or member's spouse / co-habiting partner.
Associate Membership
The Association also provides associate membership to former members who retire or who are promoted to Assistant Secretary or higher and any other applicant as the Executive Committee decides as appropriate.  They are entitled to avail of the services to members excluding ICP for retired members. The subscription rate is €35 per annum for retired members and €100 for others.
Retired Members Life Cover Plan
All retired and retiring members of the AHCPS are eligible to apply to join the Group Life Retired Members Plan. Once accepted into the Retired Members' Life Cover Plan it provides for the payment of a tax-free lump sum in the event of death after you retire.
This Plan is designed and administered by Cornmarket Group Financial Service Ltd. and underwritten by Irish Life Assurance plc if you have been a member prior to retirement. Download AHCPS (Retired Members' Life Cover) application form or if not a member download the Preferential application form.